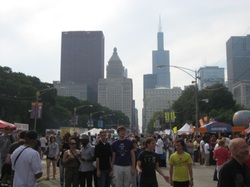 In an attempt to get the summer over with as quickly as possible the City of
Chicago
has scheduled all of its major events for this weekend. Okay this may be a slight exaggeration but just a slight one. There is more going on this weekend then there is happening the entire month of July.
The two biggest art fairs:
Old Town Art Fair
and the
Wells Street Art Festival
are Saturday and Sunday. The Old Town Art Fair, actually set in the Lincoln Park neighborhood, not Old Town, is nationally acclaimed, has 250 artists and brings in over 30,000 people. Wells Street, ironically set in Old Town, just a short walk from the Old Town Art Fair, is not as big but is still very popular.
The biggest free music festival:
The Chicago Blues Festival
is in Grant Park starting Friday June 10 and running through Sunday night. There will be local blues acts on small stages as well as nationally known performers on the main stage.
The biggest lit fest:
Printers Row Lit Fest
will be held in Printers Row on Saturday and Sunday. It has dozens of free talks and cooking demonstrations along with tent after tent of used books for sale. It has so many books it can be a bit overwhelming.
The World's most famous athlete, Lionel Messi, and his
Argentinian national soccer team
will be at Soldiers Field on Friday Night. Playing professionally in Spain and being from Argentina means there are not many chances to see possible the greatest soccer player of all time play in the United States.
The most famous sailing race:
The America's Cup
will be held at Navy Pier all weekend. It is not the final but it is a part of the race series. It is your one chance to watch part of this World famous race.
Big events are not the only thing on the schedule this weekend. There are several smaller festivals that are also worth checking out.
Ribfest Chicago
- The name says it all. It is Friday through Sunday at Lincoln and Irving Park.
Remix Chicago
- A music, food and art festival in Logan Square.
Pilsen Food Truck Festival
- Food trucks in Pilsen.
The White Sox
- The Chicago White Sox will be hosting their division rivals and current World Series champions the Kansas City Royals all weekend.