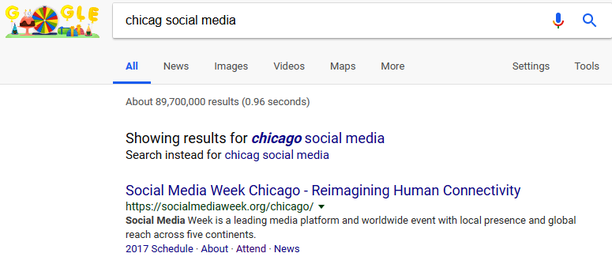 Catchy or uncommon business names can be great but not when it comes to Google search results. You certainly do not want potential clients typing your name into search, and being unable to find you because they cannot spell your name. Don't go to the drastic step of changing your name to something that is easy to spell. You also do not have to follow our example of calling ourselves,
Chicago Social Media Marketers,
a name we chose when the words in your url affected
SEO.
We have found several steps that you can take to help people who are misspelling your name, find you in search.
First go to Google search and type in the common misspelling of your company's name. Google is very good at correcting misspellings. We have all seen the,
showing search results for
, when we misspelled words. If they are fixing it you have nothing to worry about. If they are not able to guess what the searcher really wanted to search for, you need to scroll down and see for yourself if your business is at the top of the search results. If your company name is not at the top of the list you need to take some steps to make sure that potential customers can find you.
I recently worked with the automotive marketing company LotLinx. Their problem was that there were nearly as many people searching for
Lot Links
as for their actual name. They
were
on the first page of search results for Lot Links but at the bottom of the page.
There are several steps that you can take to fix this problem:
Buy the website name for the misspelled word and redirected it to your homepage to ensure that people typing the misspelling directly into the address bar end up on your website. A good idea but, as a freestanding page with no SEO, it will not show up in search results.
Create a Google AdWords ad and use the misspelling as a keyword. This will result is that when anyone searches for the term, your ad will appear at the top of the page. A good option if you have an AdWords account. The downside is that you are stuck paying for every click on the ad and many people ignore ads.
For LotLinx I recommended adding the misspelling of their name to their website. Luckily while it is a misspelling of their name they are correctly spelled words. We do not recommended just adding incorrect spellings to your site, there are some ways around it. In this case we used: "LotLinx, commonly misspelled Lot Links" and "LotLinx, pronounced Lot Links". We were able to add the keyword phrase to the website a couple of times and Google noticed them within hours, something that we found amazing. By the next day LotLinx had moved up several places in search results for Lot Links and they were near the top of the page. On Yahoo the change was even more pronounced and they went to the top search result.
These few easy steps can help people who are actively searching for your business find you and hopefully become customers.