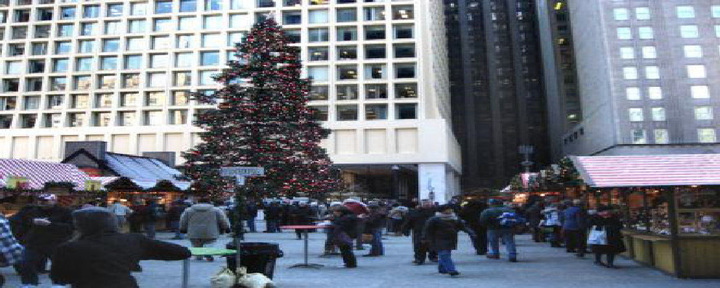 Chicago is a great place to be at Christmastime. There are many great events and activities and with this season's unseasonably warm, very un-Chicago like, weather, it is a good time to do as many of these outdoor family friendly activities.

1. Christkindlmarket. It is a German Christmas market set in downtown Chicago. There are dozens of stalls selling Christmas decorations, unique gifts, clothing and tasty, but not so healthy, food. The one drawback is the huge crowds.

2. Zoo Lights. The always free and festive Lincoln Park Zoo is illuminated with Christmas lights and holiday displays. There are ice carvings, train rides, animals and adult beverages.

3. Christmas Around the World and Holidays of Light. The Museum of Science & Industry's annual Christmas tree display. This fun museum has over 50 decorated trees representing different countries. The centerpiece tree has over 30,000 lights.

4. Holiday Windows at Macy's on State Street. One of the few good things that happened when Macy's bought Marshall Fields was their decision to keep this holiday tradition at this store. Going to Macy's on State is like stepping back in time to the department stores of decades ago. In addition to the traditional holiday window displays, the lobby is decorated to the hilt and don't miss the always beautiful tree in the famous Walnut Room restaurant on the 7th floor.

5. Shopping on Michigan Avenue. Holiday shopping on Michigan Avenue is a Chicago tradition for locals and visitors alike. There are high-rise malls catering to teenagers, high-end stores for those who want to dream of an extravagant lifestyle, flagship stores for many national brands and even some discount stores with real bargains.