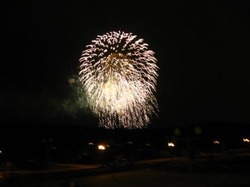 Like all of America, Chicagoans love to celebrate the 4th of July. Of course there will be fireworks, family picnics and warm weather. Unfortunately Chicago draws hordes of tourists for the holiday weekend. That means huge crowds and horrible traffic. Fortunately there are a few easy tricks that will help you beat the crowds and have a great time.

Tips for enjoying your 4th of July weekend in Chicago

Public Transportation. Every holiday Chicago officials go on TV and advise that everyone take a train or bus, to the city for the celebrations. Take their advice! Roads will be jammed and parking will either be expensive or nonexistent. Parking at Navy Pier is usually full by the early afternoon and the police will be blocking car access to the northside of the lakefront once the parking lots are full.

Watch the fireworks somewhere other than Navy Pier. Every 4th of July Navy Pier becomes so crowded they stop letting people in by essentially closing this venue. So plan on getting there very early or find an alternative location to see the fireworks. Thankfully there are many great options. The best one is inner Lake Shore Drive anywhere north of Navy Pier and south of the curve. Along the lakefront just south of Navy Pier also offers an excellent view. If you are north of the Loop you can head out to North Avenue beach and watch the fireworks over the water. If you are south you can head over to the Adler Planetarium and watch from across the harbor. The best place to watch is at the eastern end of upper Wacker Drive. From there you will have a great view of the fireworks and the crowds will be small.

Weather. Ignore the Chicago temperature forecast. Chicago is a big place and temperatures throughout the city can vary Often the news reports of temperature in Chicago are taken at O'Hare airport which is pretty far from the lakefront . There will be wind off of Lake Michigan and the water is in the low 70s so expect it to be cool along the lake.

Stay safe. There will be a strong police presence but a few precautions are called for. It is wise to stay off the lakefront late at night and don't wander down any alleys.