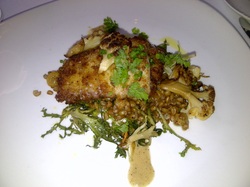 Winter in
Chicago
can be, and usually is, brutal. Not many people are happy to be here and as great a city as it is during the summer it can be a bit tough riding out the winter.
While the winter months can be bleak, there are a couple of bright spots. One is that most of the tourists have wisely left meaning that many museum lines disappear, restaurant reservations open up and you can actually walk down Michigan Avenue. A second is Restaurant Week. From January 30- February 12, yes we know it really last 2 weeks, over 200 restaurants will offer $22, 3 course lunches and $33, 3 course dinners. A few high-end places are charging $44 for diner.
It is a great chance to eat at some of Chicago's best restaurants for a reasonable price. There is one caveat. You have to put the time in to research the many participating restaurants. Luckily the city of
Chicago
and
Opentable
both have very good websites that make it easy to narrow down your dining options.
Most places offer limited choices: usually 2 appetizers, 3 main courses and 2 desserts. A great deal is not really a great deal if you have to eat something you do not like. Plan on seeing a lot of salmon on the menus. Many of the restaurants are in essence offering free dessert, which is not a bad thing, but there are better deals available.
Now that we have made our reservations we are willing to share some of our top picks for Restaurant Week Chicago 2015:
Naha
- You will not get many opportunities to eat at a Michelin Guide 1 star restaurant for $22. It is always the first reservation we make for Restaurant Week. Lunch entrees are normally between $15-$20, so $22 for 3 courses is a great deal. They also have a list of reduced priced wines.
Capital Grill
- We are always hesitant to recommended chains, even upscale chains. But Capital Grill is a very good steakhouse and their deal is one of the best. For $33 you get soup or salad, a dinner entrée which includes 2 steak options, a couple of sides and dessert. The steaks alone would cost you $33 in most Chicago steakhouses.
Mercadito
- This upscale Mexican restaurant has modern and innovative food. For Restaurant Week you receive 2 guacamoles, 2 ceviche, 3 sets of tacos and 2 deserts for the table. It is a great deal for 2 but if there are 3 of you it is not as good of a deal.
Cocco Pazzo
- One of Chicago's best Italian restaurants, they offer a great lunch deal. They have a good variety of choices included appetizers that cost $14 and entrees that cost up to $18.
Perennial Virant-
They only offer dinner and it is $44 not $33 but it is a Michelin starred restaurant and entrees are priced in the $35 range. So it may not be an inexpensive night out but it is a chance to eat at a high-end restaurant and not break the bank.