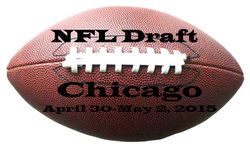 Free fan experiences will abound in this years 80th NFL draft in Chicago. The draft itself will take place downtown in the historical
Auditorium Theat
re of Roosevelt University, expanding outside to adjacent parks.
From April 30- May 2, 2015, Chicago will enjoy three days of celebrating football, football and more football. From "Selection Square" to "Draft Town" there is much too see and do, Here is our 'readers digest' listing of events.
Here is the break-down of the rounds:
Round 1: April 30: See the prospects walk down a red carpet on Michigan Avenue as they head into the Auditorium Theater.
Round 2: 32 former NFL players will be in attendance for both Rounds 2 and 3.
Round 3: Selections announced May 1, 2015.
Rounds 4-7: Players will be announced outside at an area called "Selection Square" as well as in other outdoor locations throughout the country.
What is "Selection Square"
?
It has been slated as being the epicenter of the draft. It will be located across from the Auditorium Theater in Congress Park. It will feature 32 tables, each representing an NFL team. It is from these tables that the draft picks will be made.
What is "Draft Town"
?
Draft Town is a
900,000-square foot celebration of the NFL Draft in Grant Park. It will include, among other things, music, food, player appearances and autographs, flag football
competitions, draft prospect visits, shopping and concessions. As with all public events, security at Draft Town dictates a list of prohibited items. This three-day event will culminate with a concert on Saturday night.
What is Free
?
Selection Square will be free. There will be a small area of reserved seating.

Draft Town is free.

Viewing of interviews with draft picks in attendance in Selection Square.

Opportunity to take photos on stage at the Auditorium Theater.

Light Show at Buckingham Fountain - Our famous fountain will be lit up with the colors of the team that is currently on the clock during the first two nights.
There are only a limited number of tickets available for the Auditorium Theater and Selection Square. More information on how to secure tickets will be available soon.
The choosechicago.com official
Schedule of Events
Before the event follow
@NFL
and #NFLDraft or visit
NFL.com/DraftTown
.
During the event, tag your posts and photos with #DraftTown,
Can't make it to the Draft? You can watch it on ESPN/ESPN2
And as always...take public transportation if you can!
CTA
METRA