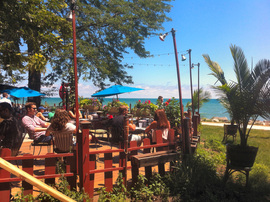 Who doesn't enjoy sitting on a beach sipping a cocktail on a warm day. We at
Chicago Social Media Marketers
certainly do. Most people will picture Mexico or maybe Hawaii if you mention drinking an ice cold beer on a beach. We are guessing almost no one has Chicago come to mind, but there are actually some very nice places to have a drink on the Chicago lakefront. Some are quiet, secluded places to relax with your loved ones and some are a bit livelier. A few can be downright rowdy.


Our favorite Chicago Lakefront bars starting on the far north of the city and working our way south:
The Waterfront Café:
You will be surprised there is even a place like this in Chicago. It feels more like somewhere in Door County or Cape Cod than in the middle of a big city. You can sit under a shade tree and listen to the waves roll in while enjoying a beverage. It is dog and kid friendly and it has the best food of any of the lakefront bars. Their crab cakes are surprisingly good and a real bargain. At Granville and Sheridan it is only place north of lakefront bike path.
Nacho Mama's:
Yes we also think it is a stupid name but it has a great location, tasty Mexican food and a decent beer list. Set on the north end of the Chicago bike trail it overlooks the city's largest beach at Hollywood. It has high-rises and an endless beach for a view.
The Dock at Montrose Beach:
A much livelier places than the first two. What it lacks in charm it makes up for with a party atmosphere. It thankfully is a bit older crowd and is usually not too crazy. Just a lot of people out enjoying the weather and having a good time. They have a strong beer list with a lot of summer favorites and a nice selection of craft beers.
Sydney R. Marovitz Golf Course:
Yes it is on a golf course but no it is not a clubhouse. They have a deck on the back overlooking the golf course or you can sit in the front with a view of the bike path and the softball fields. The food and drink list are nothing special but it is a nice relaxing place to have a drink. The staff is very friendly and they have daily drink special which you will not find anywhere else on the lakefront.
Castaways:
Set on North Avenue Beach in a building that looks like a ship. It is the loudest and craziest of the beach bars. This is the place for you if you are looking for a party and not a relaxing time. It has more of a club feel than a beach front cabana feel. North Avenue Beach can get out of control on weekends and we generally avoid it.
Oak Street Beach
: It looks more like a Mexican resort than a Chicago lakefront bar. There are lounge chairs, bar seats, cabanas and games. By far the largest of all of the places it has a great beach and lake view with the skyscrapers of North Michigan Avenue as the backdrop.
Café Olivia:
Set on the relatively quiet and small Ohio Street Beach it is more upscale than any of the other beach bars. They serve lobster rolls and lamb burgers rather than just the usual beach fare. Definitely a place you can go for a nice lunch.
Navy Pier:
It is not set on a beach but it is on the water. All of the restaurants have outdoor patios with spectacular city views and the best people watching in Chicago. The beer garden at the end has a wide selection of beers and offers free concerts all summer long.