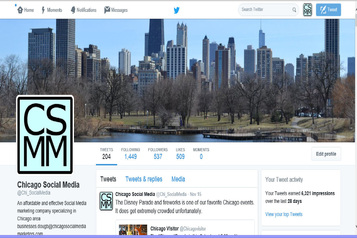 The answer is yes and no. If you have limited time and are not adept at social media go ahead and link them. If you are serious about your
social media
campaign then do not link them.
So you may be thinking
why shouldn't I link my Facebook and Twitter accounts
? It's certainly the easiest way to go. In fact it allows you to get 2 posts for the price of one! The problem is that Facebook and Twitter are independent social media sites. They do not work the same way. You should have an overall social media strategy and you should also have a tactical plan for each platform. Linking these two accounts means that you are posting the exact same content on both Facebook and Twitter and you are not taking advantage of the different strengths each offers.
The most obvious difference is the 140 character limit on Twitter. Twitter is designed for quick and compact updates. This limit does not allow you to elaborate on a topic or in a message. Tweeting is a skill onto itself. Facebook allows you to be more eloquent. While you should keep the majority of your Facebook posts short and sweet, you certainly should be using more than 140 characters.
Hashtag use should be tailored to the individual social media platforms. People expect several hashtags in Instagram and it is important to use them. Using hashtags on Twitter is also important but you should be more judicious about it. We are not fans of using hashtags on Facebook. People are not used to seeing them on Facebook. If you are going to do it they should be added at the end of the text. Hashtags in the middle of a sentence on Twitter is common and accepted while on Facebook it makes it tougher to read the post.
Many people will be following you on Facebook and Twitter. If they see your Facebook post and then later see the exact same post on Twitter they will likely ignore it. Getting the same message but in a different format will work to reinforce your message.
There are of course some benefits to linking the two. Linking is a good way to get your Facebook followers to follow you on Twitter and vice versa.