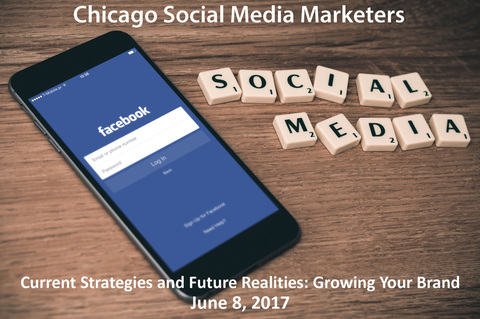 Join Chicago Social Media Marketers for a panel discussion with thought leaders discussing the latest trends on the use of digital media to build your personal brand. Communicating your value proposition is key to connecting with customers, partners and others. We will address event marketing, service design, social media and trust/relationship building for Freelancers, Creatives and Entrepreneurs. Networking will follow.
Panelists include:
Alicia Forestall-Boehm - Alicia is the Co-Founder of Chicago Social Media Marketers. An award-winning visual artist, she has over 20 years of experience with digital and traditional marketing. She and her team assess the client's social media marketing needs, execute and manage all social media activities—bringing a strong social media presence for each client. Chicago Social Media Marketers specialize in helping creative professionals, nonprofits and small businesses create and manage professional and effective social media campaigns.
Christopher S. Rollyson - For 30 years, Chris has helped executives make their firms or agencies stronger by leveraging new technology ahead of their rivals. He has advised global firms and technology startups at PricewaterhouseCoopers, led delivery teams at KPMG and advised brands like Sears, Kmart, UBS, Lions Clubs International, Micron and others at CSRA. He founded CSRA in 2006 to advise commercial, nonprofit & government enterprises work on experiential social media and social business strategy and execution.
Susan Barahia - Susan will talk about the different identities of a brand and how understanding what your value proposition offers is critical for business growth. She started her career in design by studying Architecture early on but finished her studies in computer science. After working several years in IT for corporate America, she ventured out on her own designing websites for small businesses. She also became involved in the entrepreneurial community by organizing monthly meetings for small business owners where attendees learned best business practices and found resources to grow their companies.
Mark Carter - Mark turns lack of engagement into profitable collaboration—by creating programs that attract talent, partners and clients. He creates events with focus and purpose, communicates through meaningful storytelling, and fosters collaboration to build teams of peers and advisors.
Date and Time
Thursday, June 8, 2017
6:00 PM – 9:00 PM CDT
Location
Venture Hub
4616 W. Fullerton
Chicago, Illinois 60639
Tickets
$10 in advance
$15 at the door
Register here:
https://www.eventbrite.com/e/current-strategies-and-future-realities-growing-your-brand-tickets-34554598735?aff=es2
Refreshments will be available at the event.
For more information, contact: Andreas Vassilos at Venture Hub at 773-772-7300
The Venture Hub is a nonprofit 501(c)(3) organization that seeks to promote entrepreneurship in Chicago's disadvantaged communities.