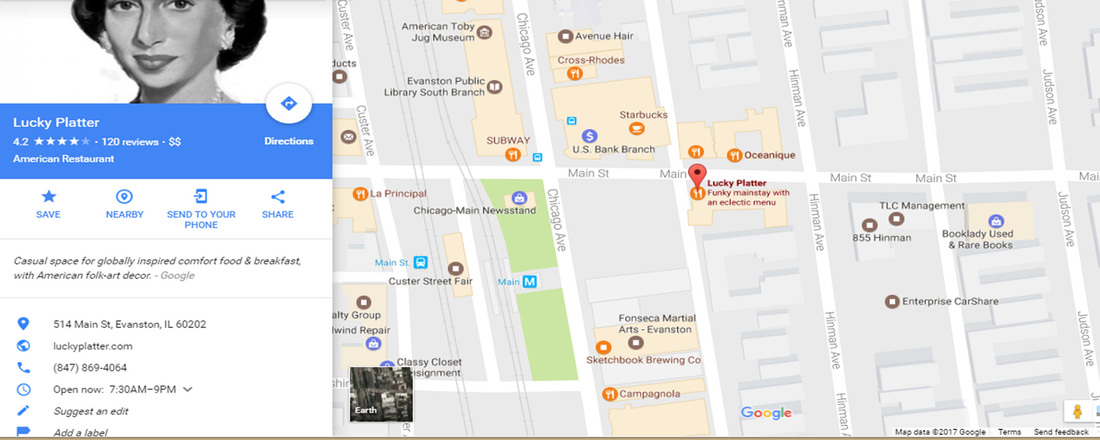 Recently we were asked to give a social media campaign pitch in Evanston, a suburb that we did not know very well. Full disclosure: we are lovers of beer and are always on the lookout for new small breweries. The Chicago area is home to over one hundred breweries and there are some cozy little places tapping some great small batch beers. Of course there are also breweries and tap rooms whose beer offerings taste like something that your uncle just brewed with his home brewing kit! So the challenge was to find an outstanding small brewery to visit in our trip to this suburb.
We could go onto Google and search for breweries in that area, wade through a bunch of listings trying to find a place that is located near our destination. But the best option is Google Maps. In the Google Maps app I can zoom into a specific area and then type the word 'breweries' in the search box. We did this for Evanston and three breweries popped up along with their Google reviews. Naturally we started with the highest rated one and ultimately ended up going there. Well, we loved it and it has become one of our favorite local breweries,
Sketchbook Brewing
, which is in the charming
Main-Dempster Mil
e section of Evanston. We did the same thing when heading to another Chicago suburb, Naperville, and ended up at
Solemn Oath
, another great brewery.
The lesson, besides that the Chicago area has a lot of great breweries, is that many people are using Google Maps instead of Google Search to find businesses, and reviews on Google can make your business standout.
Google Maps now has over 1 billion users and its popularity is growing. So what can you do, as a business owner, to make sure that people are finding your store? First and foremost make sure that it is on Google Maps. This is something you can do yourself. You will need a Google account, it can be your personal account, and then you need to follow the steps on the Google Support page:
1. Open Google Maps and make sure you're signed in.
2. Zoom in to the map where you want to add your business.
3. In the bottom right, click Send Feedback.
4. Click Add a missing place.
5. Drag the marker where your business is, and add any relevant information.
6. Click Submit.
Make sure that you add as much information as you can. Adding your phone number will let potential customers call you with a simple click. Photos are also important. We added a client's art gallery in a small Indiana town to Google Maps and the cover photo received over 10,000 views in less than a year. You should also 'claim' the business so you have more control over the listing.
Now you will need review with high ratings that will encourage searchers to choose your business. Getting 5 star reviews on Google is simple; provide great service or products. We know that it is not really that simple, but in today's world reviews are more important than ever. 84% of consumers trust online reviews as much as personal recommendations. So how do you go about getting great online reviews? Take a lesson from Realtors. Sites like Zillow allow Realtors to request reviews from their clients. You can rest assured they are not asking any of their unhappy clients to do reviews. You can follow their lead and ask happy clients to go onto Google and leave a review. One survey found that 7 out of 10 people will happily review a business when asked. Just make sure to ask them politely and ask them to leave an honest review.
Author: Douglas Boehm,
Chicago Social Media Marketers
.