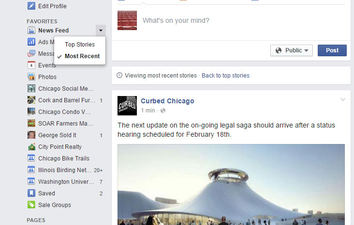 Ever wonder why your business Facebook posts are only being seen by 25 people while your business's Facebook Page has 500 followers? It is because Facebook gives its users the option of seeing all of the posts of the pages they follow or just the top stories.
Top Stories
is Facebooks way of saying that they are going to pick which posts you will see. Odds are almost all of your followers have their accounts set to top stories. Most users do not even know about this option and even if they set their account to
Most Recent
, which shows all of the posts in chronological order, Facebook will periodically change it to
Top Stories
without their knowledge.
So how do you overcome the problem of Facebook filtering out your posts so almost no one sees them? The most important step is to
make your posts engaging
. If your followers
Like
your posts or
Comment
on them, Facebook will not filter you out of their newsfeed. Additionally, it is also very important to
post consistently
. Posts that are made frequently will engage your followers and avoid the dreaded Facebook filter. The final step is to analyze the results of your
social media efforts
. It is important to consider a number of factors including how many people your posts have reached and which posts have yielded likes and comments. Continue with posts that include content that encourage follower engagement and drop the topics that go unseen. Our next article will cover what is the
best time to post to social media
to maximize engagement.